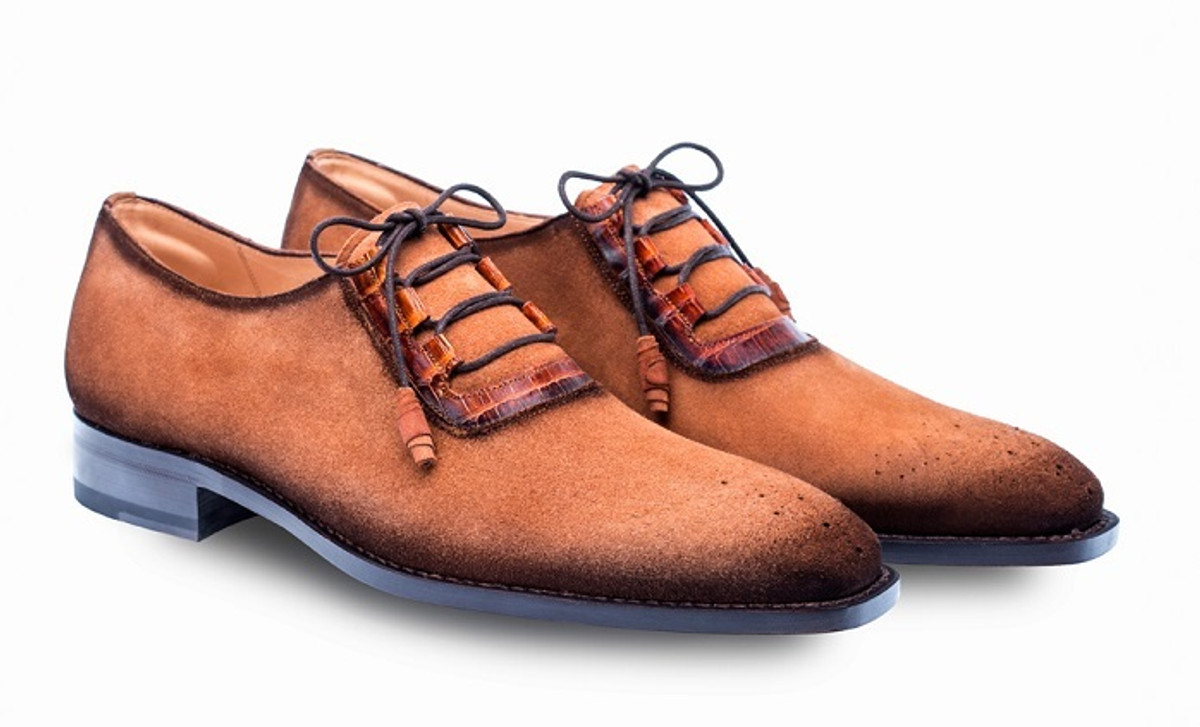 Description
Mezlan shoes of Spain have a long time tradition of making simply the very best quality hand made exotic dress shoes, loafers and alligator shoes that money can buy and get deals on. The Mezlan brand has become a go to brand name of Celebrities world wide and isn't hard to spot stylish Mezlan shoes and loafers on their feet. The reasons why the rich and famous buy Mezlan shoes for men is two fold. The best styles that Mezlan makes for men to buy are simply unique and exotic which just look great with their Italian style that are cutting edge.
You'll see that many of the best exotic styles of loafers and shoes online that Mezlan of Spain produce for purchase end up being copied and brought to market a year later because when it comes to exotic alligator leather shoes, Mezlan dress shoes is a serious innovator when it comes to their best mens shoes and exotic loafers. The second reason you see famous people buying, getting deals on and wearing Mezlan shoes is the quality of course.
These aren't your mass produced shoes to buy and get deals on but are hand made individually shoe by shoe and stitch by stitch providing the wearer an affordable exotic luxury that just isn't easy to give up such as Mezlan shoes and loafers. You'll find a smooth selection of Mezlan brand crocodile shoes here. If you really want to walk on the wild side, a pair of Mauri shoes will might be the ticket.
Whether you have been wearing Mezlan's for years or are just learning about them. You will know or find that when it comes time to buy a pair of these finely crafted shoes, you may just get addicted to them and all of their ever changing styles that come to market. The design team for Mezlan are instructed to be creative and let no stone be left UN-turned when it comes to creating new styles. It's the reason that Mezlan mens shoes have very unique styles and finishes that even other designer brands are struggling to catch up with.

The designers at Mezlan shoes if you haven't noticed already constantly create unique finishes with their finely tanned leathers. Sure they already make many styles of shoes with your high quality Italian calf skin leather and exotic reptile skin leathers such as crocodile and alligator skin but it's what they do with other types of finishes that they create.

Many of the most cutting edge styles from Mezlan feature unique finishes to suede and Italian calfskin. They have their exclusive tanneries take the leathers and laser etch unique patterns into the skins as well and finish the leathers with unique types of finishes that may give the leather a completely new look or gloss to the leather. They have even done finishes that give the style of shoes a pearl like finish that simply looks like no other designer shoe out there.

What Mezlan does with some of their suede shoes is simply unbelievable as well. They have created all sorts of patterns and finishes that look like nothing else out there. Finishes such as glen plaid patterns as well as other patterns that have been either embossed or laser etched into the skin that leaves other brands in the dust. That doesn't even take into account the actual style of the shoe itself.

The Mezlan design team comes up with many more styles of shoes than most men's designer shoe brands do. Since the shoes are all hand made, it allows them to create many more styles and bring them to market unlike other brands. It's one of the reasons that you may see styles of Mezlan shoes in one store but not another. Mezlan encourages their shoe accounts the ability to create and design their own exclusive shoes as long as you order a minimum of 6 pairs per style per color.

Let's say that as a shoe store, you want to offer your customer a pink and purple two tone wingtip shoe, all you need to do is contact your sales rep and tell them in detail or even provide a decent sketch of the type of shoe that you want Mezlan to make for you and within 3 months you will have those exclusive shoes in your shop ready to sell. It's a way to get more Mezlan shoes on more feet and make more men fans of their shoes

Once you get past the cutting edge styles of Mezlan shoes, you are left with why you should buy them. Buying a pair of Mezlan shoes of course should never be taken lightly because they are a designer brand and not cheap. Buying a pair of Mezlan shoes should be considered more of an investment in your personal style and the quality and hand made craftsmanship reflects this philosophy.

The first time that actually get your hands on a pair of Mezlan shoes whether you buy them or not will show you what makes Mezlan shoes special to begin with. You can literally feel the quality in the heft of the shoes. Not to say that Mezlan shoes are heavy, they are not but you can feel the quality in the same way that you can feel the quality of a Rolex watch compared to a fake Rolex sold on the street. You simply can not fake quality and Mezlan shoes have it in spades indeed.

Besides the sleek styles that Mezlan shoes have, it's the quality that you can see, feel and even smell that shows you that these are very fine crafted shoes indeed. You can feel how fine the leather is on the uppers of the shoes and when you first open the shoe box itself and take the shoes out of their flannel dust covers, you can smell that fine leather that is simply unmistakable in comparison to lesser brands of shoes. The fine leather smell is overwhelming in a way just like sitting in a new Jaguar or Range Rover is. You just don't get that effect with a pair of cheap shoes that smell like the glue that they were made of.

Now it's time to put your hand inside of these shoes and take note that you will not find any sharp edges that would irritate your feet and cause blisters. Mezlan makes sure that their shoes inside and not ignored either because the true luxury of Mezlan shoes is also how they feel on your feet as well. These shoes have a combination of fine glove leather linings that line the entire interior of the shoes as well as memory foams inserted into specific spots that give Mezlan shoes the fine luxurious comfort that they are also known for. Your feet will know that they are in special shoes immediately and not in some mass market brand of shoes. Like I said previously, you just can't fake quality and Mezlan goes that extra mile with their fine hand made shoes.

The use of fine glove leather for the linings of Mezlan shoes are used two-fold. First they create luxurious silky feeling that you simply can't get otherwise when you put on the shoes and start wearing them. You can tell that you immediately made a great choice buying these shoes with the silky feel and fit that Mezlan shoes are known for. The second reason is that leather is the simply the best material to use for moisture absorption. Everyone's feet sweat and fine leather is known for absorbing the perspiration and keeping your feet feeling their best all day long. Try doing that in a pair of cheap shoes that are made of synthetic materials. You'll be miserable in an hour.

Now let's talk about shoe soles. On a pair of Mezlan shoes, you will almost always find that the soles are fully hand made and carved leather. Leather shoe soles have long been known to be best and most durable material for shoe soles for their long lasting wear as well as traction. The shoe soles may be slick as frog skin when they are new but once you start wearing them on the street, they develop a scuffing that makes the shoes not slip when you're walking in them. Compared to rubber shoe soles, Leather lasts much longer and just feels like quality on your feet. I know that when I'm wearing a fine pair of Mezlan shoes, I walk with my head held higher and with a sense of confidence that I just don't have if I was just wearing some mass market shoes on feet with rubber soles.

These leather soles aren't just soles that are made of leather and attached to the shoes. Mezlan makes them with style as well. On many of the models, they are like works of art. They sort of remind me of fine furniture in the way that the shoe soles are both designed and finished. You will find on Mezlan shoes, leather soles that may be painted an eye catching color such as red or blue. They may even be two tone with a combination of red with black for contrast. This is really at the designer's discretion but it is what sets Mezlan shoes apart from lesser shoes. You will sometimes find that that the shoe sole may have an exquisite design in the way that the brass nails are put in. Sometimes they use the brass nails as decoration as well as function all with the intent of showing you that Mezlan shoes are special.I have to perfectly honest here, sometimes they make their shoe soles so nice looking that it's almost a shame to wear them on the street and scuff the bottoms of them. They are simply that beautiful to behold.

If you have ever noticed that some brands of shoes have different fits from one style to another, the usual reason for that is that they are made in different factories in different countries and don't use the same shoe forms called a last. One one style, you may wear a size 10 but on another style, you need a 10.5 or even a size 11. That is because the shoe brand is not taking seriously their size consistency and providing all of these factories with standard sized shoe lasts. You won't find this with Mezlan shoes ever. That is because they have the over whelming majority of their shoes made in Spain and they make sure that all of their shoes are made on identical lasts to ensure absolute size consistency.
It's this attention to detail that let's you know that once you have found the right size that you wear with Mezlan shoes, that you will be able wear any of their other styles with piece of mind. Consistent sizing should always be important for a shoe brand but you would be surprised how many brands don't take it seriously. With Mezlan shoes, you will always know that once you wear a certain size, no matter what style you want to buy will fit you the same exact way.

Once you have taken that leap and decided to buy your first pair of Mezlan shoes, you will realize what all of the hype is about and you will be spoiled for any thing less on your feet. It's no different than driving a fine luxury car and then driving an entry level economy car. Mezlan makes sure that you will never want to wear anything less but the very best on your feet. Learn How Mezlan Shoes are Made here.