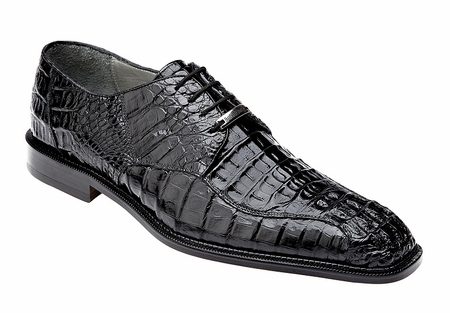 Crocodile Shoes are Luxurious.
If you have never actually held a pair of crocodile shoes in your hand. Take a real good look at the skin itself. Crocodile skin has been tanned by the very best tanneries to ensure that this skin is simply the best. The skin is a luxury product because only so many crocodiles can be killed each year. This keeps the rarity of the skins at high levels. You will never find poor quality shoes made with crocodile skin because of this. It's just too precious an expensive not to be made into luxury footwear. That is why crocodile skin is made into luxury products like fine footwear and bags that often come with steep price tags. It is the type of thing that tells people you appreciate quality.
You're a Stylish Man.
If you are reading this blog post about crocodile shoes, chances are you a man of style. You care how you dress, and you dress to impress. Crocodile shoes will certainly help that out. Much of the premise of these luxurious dress shoes are about style with their generally sleek looks, not to mention texture. As a style minded man, you may like to wear different color crocodile shoes to match your various color suits and ensembles. You simply love to make an impression when you get dressed and show people you are a man of style. From matching your suit to your dress shirt to your tie, crocodile shoes will always be part of the equation for a complete ensemble. Belvedere shoes makes great looking crocodile shoes. Learn the difference between alligator and crocodile shoes here.
You like your shoes to last.
Since crocodile shoes are almost always high quality. You know that you own and wear these artfully created shoes for years to come. They are always made from the finest crocodile skin, glove leather interiors and of course full leather soles and stacked leather heels. You can feel immediately the moment you hold them in your hand that these shoes are seriously well made and made to last. Full leather soles and heels last a very long time. Synthetic material shoes or shoes with synthetic soles simply can't take the abuse like a full leather shoe can. They are nothing like most mass market shoes that you can tell corners were cut all over the place to save money like cheap synthetic soles, fake lined interiors and cheap leather uppers that you can tell won't last. It's not that way with real crocodile shoes. Mezlan shoes are another fine brand to consider.
Crocodile Shoes are Luxury Shoes.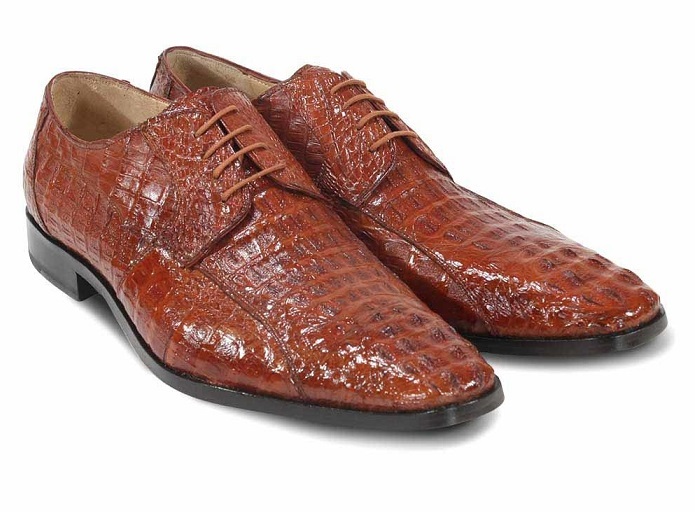 The thing you will find about crocodile shoes as well as other gator shoes is that for them to be of high quality. They will certainly be fully hand made by highly skilled shoe makers who have been making fine shoes for years and years. The average shoe maker that is deemed skilled enough to make a pair of crocodile shoes will have at least 10 years under his or her belt. They can literally make the shoe entirely by hand. They cut the crocodile skin piece by piece. The shoe uppers once fashioned will get stained to the color they need to be by hand as well. Imagine with the initial cost of crocodile skin letting someone make them. Crocodile skin would be getting ruined left and right. That is why you can only let highly trained and experienced shoes makers make crocodile skin.
Crocodile Shoes are Comfortable.
The comfort that you find when you first slip on a pair of crocodile shoes is not by accident. Let your feet be your guide and you will notice that the interiors of any pair of crocodile shoes are completely lined with buttery soft leather. Not partially but fully. Your silky sock-covered feet will fully appreciate the way a pair of crocodile shoes feel. Feet have thousands of nerve ending in them. From the soles of your feet to each toe. Your feet are going to immediately know the deal when you put them on. Like pure heaven. These are generally Italian style or made so they aren't clunky like you would find with a pair of thick-soled wingtip shoes. The Blake construction that most crocodiles are made with allows a thinner sole that makes the shoes easier to walk in and lighter on your feet.
Made by the very best shoemakers.
Crocodile shoes are certainly handmade luxury shoes. If you have ever seen any of the YouTube videos out there. You will find the shoemakers first pen the style of shoe on a shoe last which is the foot form they use for making the shoes and then take pieces of paper that put them on the last to see how they will lay. They will hand cut the crocodile skin with razor-sharp knives into all the shoe upper parts and start to lay them out before they sew them into the shoe upper. There are also a lot of nails that are hammered by hand into the bottom of the shoe upper into the shoe last for forming the shape of the crocodile shoe upper as well. There is no machine that can duplicate what these highly skilled shoemakers can do when they are making a pair of crocodile shoes. It's why you only see a handful of shoe makers such as Belvedere, Mezlan, Los Altos and Mauri making crocodile shoes.
You like to dress Unique.
One thing that can always be said about crocodile shoes is that they are most often unique. You're just not going to see everyone wearing them. Certainly not in any office environment. Go into any bank or large sized law office and try to find one man wearing a pair. You can't. It is partly because it has to do with style. Style is frowned upon in those places. You'll see men wearing suits and shoes of course but they wear them as a uniform. Not to express their style. That being said. The fashion-forward style that crocodile shoes are all about is for your time. Not theirs. Got a party to go to where you want to showcase your style, these are the shoes to wear. You just won't see everyone wearing them. Most people are afraid of standing out or drawing attention to themselves. When you're not one of those guys, crocodile shoes are perfect for you.
You Buy the Best.
When you reach your place in life where you are secure with yourself as a person and financially. You learn to appreciate the finer things in life. From luxury cars to fancy watches. You like to buy the best for yourself and like people to acknowledge your place in life. Crocodile shoes are the type of footwear that will show people immediately that you can afford the finer things in life whether they like it or not. You know about the fine craftsmanship that goes into the luxury items you treat yourself to and you like to talk about it to your friends and acquaintances. What looks better than you get out of a late model Mercedes Benz or BMW with your crocodile shoes being the first thing that people notice as you're stepping out of your car? Those finely polished crocodile shoes combined with your luxury automobile will always get noticed and not be quickly forgotten.
Crocodile Shoes can be re-soled.

When we talk about the quality of crocodile shoes. Long-lasting is always in the cards. One of those features is that these shoes can be re-soled. Depending on how often you wear them. The full leather sole on a fine pair of crocodile shoes will probably last you several years. When the soles start to get worn and soft on the bottom. There is no need to discard your pricey shoes. You can take them to your local shoemaker and he or she can hand craft another leather sole for your beloved crocodile shoes ensuring that you can wear them for several more years. Crocodile shoe are made the old-fashioned way with the intent of being able to put new leather soles on them. Most shoes in the old days were very expensive because they were all made by hand. When you were able to afford a pair, you were quite fortunate. The shoes were designed to be re-soled with fresh new shoe leather. Try doing that with a mass-produced pair of shoes and you'll quickly find out that they can't be re-soled. When they wear out, it's time to throw them out.
You can't fake realistic crocodile shoes.

Although many mass-market shoe makers try year after year. They simply can not fake authentic-looking crocodile skin. The texture on real crocodile skin is natural and unique. Naturally, every crocodile is different from the other and may have some differing features to their skin. You can't fake that on mass produced shoes. The texture has ridges that go into certain directions that you have to feel with your hand to appreciate. The scales will have a certain direction that they go in. Think of snake skin and you get the idea. This is nature. You just can't mimic this with a pressing stamp machine and ordinary leather. The shoes themselves will also be poor quality in comparison to authentic crocodile shoes. You won't usually find hand made construction. You probably won't find full leather linings either. The shoe soles and heels will certainly be cheaply made in comparison to a real pair of crocodile shoes.