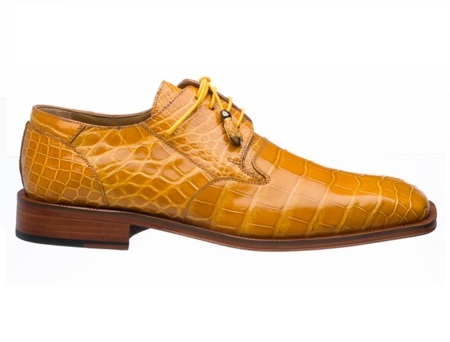 If you like the way alligator shoes look and have never bought them before, there may have been a reason why you did not buy them previously. Here at AlligatorBoss.com, we will explain what makes alligator shoes special and why they are good idea to buy them. One of the first reasons to buy alligator shoes is that they are high end luxury shoes that are almost always hand made. You will see that Belvedere shoes have all of these features and more. What does that mean to you. For the first thing, being hand made means that that alligator shoes are made not only of rare and exclusive alligator skin that all by itself is very expensive and luxurious. We know that alligator skin does not grow on trees and by law, only so many alligators are allowed to be killed per year for both meat and their exotic skins. For that fact alone, alligator skin is very pricey and used only to be made in hand made luxury goods like alligator shoes.
Alligator Shoes are Exclusive by their very nature
The exclusive nature that these shoes possess is one of the reasons that makes them a luxury good to begin with. If you walk into any mall across the United States, you may be hard pressed to find a single store that sells them. Sure they may be a few special malls that cater to the luxury buyer but those are few and far between. Those markets for the most part are in certain high income areas that feature those exclusive designer label stores and shops.
You Just Don't Find Alligator Shoes in Malls


For the most part, your basic cookie cutter shopping malls and strip malls will be eerily devoid of a single store that may even have one pair of alligator shoes in them that sells shoes. That is how rare they are. If you do find a shop that sells them, chances are they are in a very big Metropolitan city such as New York or Chicago. It is in those markets where you will find stores that sell them because there are people who like to wear them who live in these big cities.

Alligator shoes are only made in hand made shoe mills where the artisans making these exclusive high end shoes have been literally hand crafting fine alligator shoes for years and years and some for decades. These fine gator shoes are cut by hand, sewn by hand and cobbled together by hand. You're not going to find some big machine that is automated creating them in any way shape or form. They are completely hand crafted almost in a bespoke way. There are some of the brands that actually offer custom shoe styles and colors, that is how small time production alligator shoes can be.

Many times you may see a store that specializes in selling alligator shoes have a few completely exclusive styles that they have made only for their store and not to be seen or sold elsewhere. So, if you're a big time fan of wearing shoes that no one else has, never mind the fact that real alligator shoes aren't seen on everyone's feet, it gives you that complete peace of mind guarantee that they are even that much more exclusive when exclusivity is your thing. It's no different that a Rolls Royce buyer can have their new car completely unique from any other Rolls on the road with a custom paint color and completely bespoke custom interior with custom color leathers and trim finishes.
These Shoes are Completely Made by Hand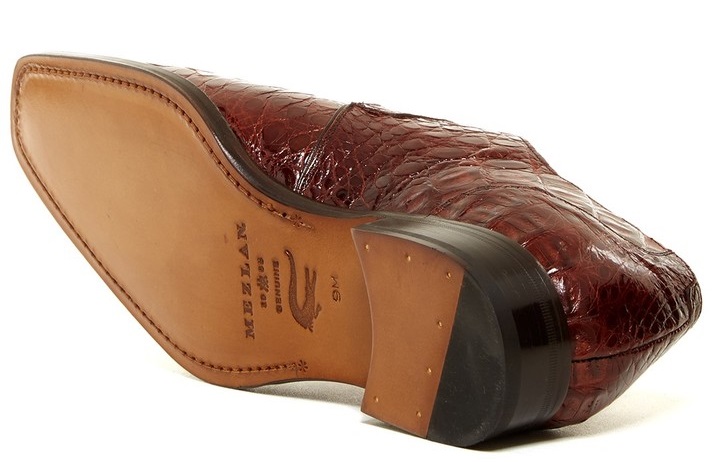 The finished product that you see look like they are luxurious shoes and hand made compared to mass market brand shoes that are produced at lower price point. It is no different than comparing a Rolls Royce to a Honda. You can see inside and out that there is difference comparing alligator shoes to say a pair of Stacy Adams shoes which are quite common and seen on everyone's feet who like alligator shoes but don't have the money to play in the big leagues. .
You Will Know Why These Shoes are Expensive


The next reason to buy a pair of alligator shoes is simply slip your feet into them. Feel that? It's buttery glove soft leather linings that are completely coddling your feet inside these shoes. You can feel that that shoes are fine high end luxury shoes indeed and don't feel anything like your cheaper types of shoes. It isn't just the fact that the shoes are lined in leather but that they are fully lined in glove style leather that just feels like heaven when you put them on. It's the true hallmark of fine pair of shoes. Next time you go to one of those big box shoe stores, walk around and examine them closely.
Fully Lined in Glove Leather for Comfort


You'll notice that they just seem cheaply made in comparison because they. Put your hand inside the shoes and you will be hard pressed to find a single pair never mind several styles that have full glove leather linings inside. What you will find is cost cutting gone awry. If there is any leather used for the interior lining, you better believe that it is only used in the visible part of the interior which is about half the shoe lining. The rest will usually be some kind of fabric lining with some of the linings even being stiff like canvas that I can't imagine would be comfortable.
Alligator Shoes are Made to Last
Some softer fabric linings may be passable but only for a short time because the fabric lining will wear out quickly and not last in any kind of comparison to the full leather linings that real alligator shoes use. Plus only real leather linings will do the admirable job of absorbing perspiration that the cloth fabric linings won't do. Once you experience what wearing real alligator shoes feel like, you won't have any doubt in your mind why you want to buy a pair of genuine alligator shoes.
Alligator Shoes are Re-sole-able
The last important reason why you should buy genuine alligator shoes is the sole itself. Not Soul, but sole. The sole on these shoes completely made of shoe sole leather that are both hand carved and sewn onto the shoe upper making a complete shoe. You will see that the shoe maker uses real brass nails as well as being slowly sewn together to the upper of the shoe. The heel is also made of several layers of hard shoe sole leather that gives alligator shoes that extra bit of weight and a solid feel when you heft them in your hand. That is for a reason as well. Durability.

On lesser shoes, if you take them apart you will immediately find that the heels themselves are usually made from a plastic molding machine and that the heels are hollow as well. Imagine how those are going to hold up for the long run. They won't. You will be lucky if the shoes last the season that you're wearing them if they get used on a somewhat regular basis. That is why you will only find full leather soles and heels on alligator shoes because they are made to last for years and years and when the time comes where you want to get them resoled, the shoes are designed to let a shoe repair shoe completely recreate the sole and heels making the shoes become almost like new. That is why buying a pair of fine alligator shoes is long time investment and great choice when you like dressing with style.